Where in the Team Development Cycle is Your Team Right Now?
There are four key stages in the team development cycle, requiring a focused progression for the establishment of a winning team. The challenge is to continue to advance through the stages without getting stuck!
Sadly the majority of business teams in the UK fail to progress beyond Stage Two in the cycle as our research of 200 teams working in the private sector in 2008-09 shows.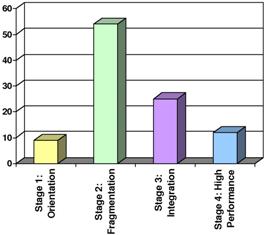 What are the four key team development stages?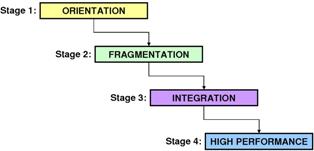 Stage 1: Orientation A team is in this stage of the cycle when either:
The team has just been created
The team leader has changed
The team's purpose or strategy has changed
The personnel within the team has changed
This stage is fundamental to the process of creating a winning team, yet is commonly poorly addressed due to pressures to make the team active as quickly as possible.
High performance will remain unobtainable if the appropriate planning and orientation is not conducted from the outset, but thankfully it is never too late to reestablish Solid Team Foundations (Opens new window)

Stage 2: Fragmentation A team is in this stage of the team development cycle when either:
The team is performing below expectations
There is an over-reliance on key team members
The team experiences conflict and negativity
Team members prioritise individual results over team performance
This stage provides the greatest 'sticking point' for most teams, often directly as a result of failing to complete Stage 1 comprehensively. If a winning team culture is not created and sustained then the initial enthusiasm generated from becoming part of a team can wane rapidly with a subsequent impact on productivity.
The loss of the winning team ethic can create a downward spiral that is very time consuming and wasteful, and every team leader must escape from this trap at the earliest opportunity.
Stage 3: Integration A team is in this stage of the cycle when either:
The team has become self-directed
The team consistently meets existing team performance targets
The team is united in finding solutions to problems
Each team member feels supported and valued by the team
This stage can only be reached when the team leader can confidently adjust their role into that of coach and mentor. Micro-management becomes a thing of the past and each team member becomes empowered and fully accountable for their contribution to overall team success.
The team will be wholly focused upon the critical performance measures and a positive, appreciative team culture will be being nurtured.
The needs and aspirations of the team outweigh any personal requirements.
Stage 4: High Performance A team is in this stage of the team development cycle when either:
The team is a cohesive unit
The team continually strive for incremental performance improvements
The team is resilient and unite to overcomes all obstacles
The team environment is inspirational, innovative and engaging
This stage is the most elusive and the most fragile and demands specialist skills from the team leader.
High performance demands: (Each link opens a new window)
Our experience suggests that short timescales (6 to 12 months)must become the focus when significant performance improvements are being targeted.
Few teams can sustain peak performance for extended periods due to market variations and personnel changes. One high profile example is the McLaren F1 Racing Team who were on top of the world in 2008 yet have become also-rans in 2009, because they failed to adjust to changing regulations. But having experienced what it takes to be a high performing team they know they have to refocus on their goals for 2010 and their new team leader is setting their directional course as we speak, in other words they have cycled back around to the Orientation Stage as every team that strives for sustainable high performance must do, and the results of this approach are already starting to show.
If your team is not performing at the level you want you need to identify which development stage they are in and then support and encourage them to move forward into the next stage.


Where is your team currently?
For our research we developed and utilised a rigorous diagnostic benchmarking process, but you can quickly determine the likely location of your team within the team development cycle by reviewing the current demands of your team leadership role.
Start by answering these questions:
Do you spend significant time providing direction to your team?
Is there any ambiguity on the roles within your team?
Are the team's performance goals at all unclear?
Is the majority of your time spent providing support to your team?
Do you need to spend time correcting inappropriate behaviours?
Is the team under-performing with regard to one critical performance measure?
Does the established escalation procedure for decision making work effectively?
Can you rely on team members to fulfil their roles without supervision?
Is the team communicating openly and honestly?
Do your team members approach you regularly with new ideas?
Is each team member focused on individually adding greater value?
Do you celebrate every incremental success as a team?
Then review your answers in the table below:


| You Answered YES | Team Development Stage |
| --- | --- |
| 1 | 1 or 2 |
| 2 | 1 |
| 3 | 1 |
| 4 | 2 or 3 |
| 5 | 2 |
| 6 | 2 |
| 7 | 3 or 4 |
| 8 | 3 or 4 |
| 9 | 3 or 4 |
| 10 | 3 or 4 |
| 11 | 3 or 4 |
| 12 | 4 |
The table above clearly only provides an initial guideline, but it does take the first step in assisting you in defining your team development needs if they are to become a high performance team.
Supporting your team through the development cycle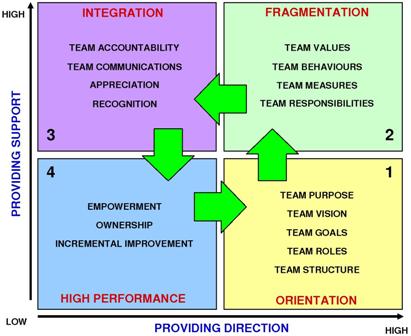 Stage 1: Orientation When a new team is being established or an existing team is being reoriented it is critical to ensure that the Team Foundations are well established. Many of the challenges being faced by the teams in our research were created because solid foundations were not given due attention at the outset.
The key focus for the team leader in Stage 1 is to provide clear and unambiguous direction for the team. If your team has been in place for some time yet they are struggling to perform as a cohesive unit then further time needs to be invested in Stage 1, and the most effective place to start is in the creation of the clearest and most comprehensive vision for winning performance that your organisation can identify.
It can be valuable at the outset of such activity to profile the current perspectives of your team members using the Team Performance Benchmark Survey

Stage 2: Fragmentation This is an inevitable and unavoidable stage in the team development cycle. Your team will have been inspired and motivated by your clear vision but as time goes on the path to success is full of obstacles and setbacks.
The key focus for the team leader in Stage 2 is to continue to provide clear direction but to balance this with increasing support for the team.
The key reasons that the majority of teams remain in this stage of the cycle are:
Team members lose focus on the clarity of the team's direction
The individual responsibilities and contributions to team success have not been accurately defined
The support being offered is inappropriate and too often judgmental and blame oriented
As the team leader you must focus each team member on the specific measures of success that are most relevant to their specific role within the team. To build towards team unity you will need to agree and reinforce the team's key values and then support the team in developing a desired behaviours model that will accelerate your journey towards a winning performance.
Which behaviours are desirable and which are unacceptable? Well that all depends on what your team is setting out to achieve. Read more about Winning Behaviours here

Stage 3: Integration To progress into the Integration phase of the team development cycle the team needs to operate as a cohesive unit with achievement of team targets at the top of the agenda supported by appropriate reward mechanisms.
An accountability framework needs to be created that establishes individual ownership of contributions to success, and the team leader should support each team member in exploring innovative ways to improve efficiency and effectiveness within their own areas of responsibility.
To progress to this stage there will already be a successful communications strategy in place, but this needs to be enhanced to reinforce a team culture of appreciation and recognition. Errors and mistakes will of course still occur but the team should develop a united, proactive and multi-disciplined approach to problem solving.
Stage 4: High Performance It is at this stage of the team development cycle that team focus is taken to the next level. What makes a winning team stand out from the masses is their attention to detail.
High performance in any environment demands that energy and resources are focused on the small differences that make all the difference. A clear understanding and prioritisation of the key performance indicators that will contribute to optimum performance is vital, and when combined with a detailed analysis of the issues that currently impair performance the team will have created an agenda for real success.
When the team takes full ownership over each of these prioritised issues and continually explores innovative approaches to performance enhancement then a winning team will have been established.
But remember that a change in market conditions, strategy or key personnel will herald the need to return to the first Orientation stage of the team development cycle so that solid team foundations can quickly be reestablished and the team can return to high performance in the shortest period of time possible.


To return from Team Development to Winning Teams select this link


A FREE consultation is always available, so to discuss this issue further either:
Call us on 0845 434 9589
Or complete the form below