Positive ROI
"If you don't focus specifically on measurable performance improvements, you will never be able to demonstrate a positive return on investment"
Measurable performance improvements fall into at least one of three categories:
Increasing Revenue
Protecting Revenue
Increasing Efficiency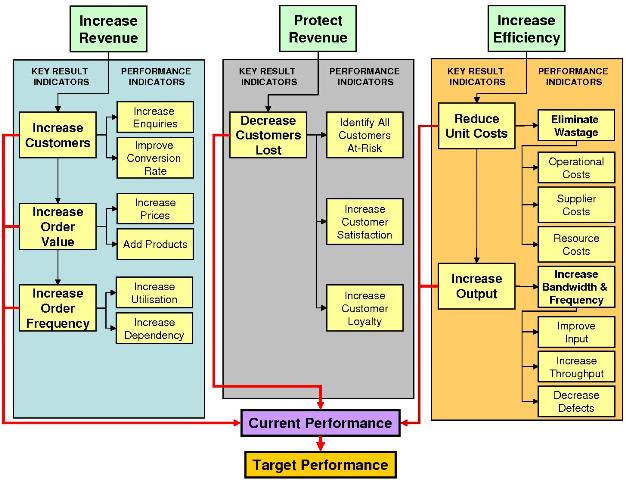 Organisations that have a weak track record of delivering a Positive ROI from previous change investments have failed to bridge the gap between INTERVENTION and BUSINESS IMPACT.
Why? Because most initiatives are born from a desire to address an apparent symptom of under-performance and the benefit of actually doing so is treated as an after-thought, often only considered once the intervention has been delivered.
Today's business leaders are demanding a more sophisticated approach
At Winning Teams we specifically partner with ambitious organisations that are seeking profitable growth, to:
Clarify and validate the desired Performance Horizon
Illuminate the current performance reality
Target desirable and measurable performance improvements
Diagnose the Root Causes that are currently limiting performance
Prioritise the investments that will rapidly improve profitability and realise the desired winning performance
Build a Positive ROI business case for investment in positive change
Evaluate and enhance the impact of each and every intervention
Empower each client to be non-dependant on our services
We believe every change initiative should be born from answering the most critical question - How can we measurably improve our performance and by how much?
We deliver our help client organisations to quickly identify a minimum of £500K of cashable, measurable improvements that can be realised within the next 12 months. 3 Coordinates Programme to help client organisations to quickly identify a minimum of £750K of cashable, measurable improvements that can be realised within the next 12 months.
Performance priorities are immediately established with the senior management team and then a fixed cost F1 Performance Programme is established that WE GUARANTEE will deliver a POSITIVE ROI in excess of 500% inside 12 months or we will offer you your money back.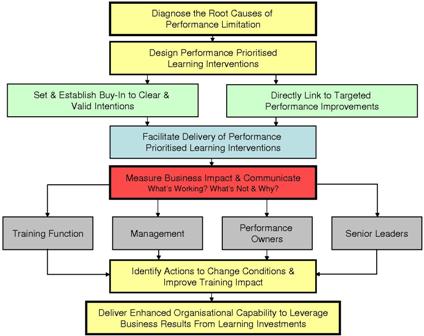 Our formula for success is a simple yet remarkably effective one that delivers real, measurable performance improvements where you need it most.

To explore Team Metrics in greater detail follow this link


Grow the Impact of Your Own Change Initiatives
Would you like to be in a position where you don't have to defend your training and development budget against potential cuts?
You just need to change your emphasis from evaluating the quality of the training and development to evaluating the impact of your training and development. Training and development has no value until it is applied successfully!
Our research into the cause of failed change programmes shows that the causes can be attributed as shown below: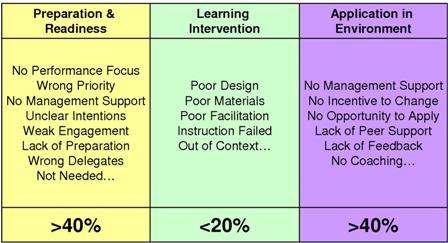 This research highlights the critical need to strengthen the bond between HR/Training and Business Management if every future intervention is to be deemed as a valuable success.
The need for training and development must be driven from within the business and the performance impact must ultimately be managed by the business. The HR/Training function must support the:
Prioritisation of training and development needs in alignment with performance requirements
Preparation and readiness for an impactful intervention
Selection and design of the most appropriate intervention
Tracking and expansion of the positive business impact
Our research shows that the critical point of focus must be to ensure that the majority of delegates/participants change their Focus, Mindset & Behaviours to positively impact performance as a direct result of each intervention and in so doing generate a positive return on investment from each training and development investment.
The chart below highlights this need and shows how much value can be 'left on the table' if this approach is not applied effectively.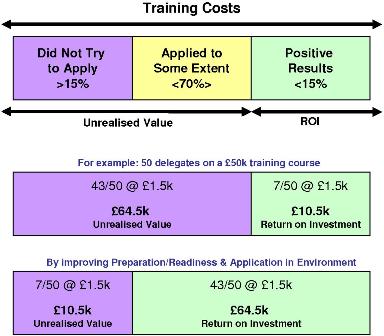 The Basic Steps Required to Evaluate Performance Impact
Establish and communicate a clear & valid set of intentions for each intervention prior to delivery
Ensure leadership, management & trainee buy-in
Clarify the targeted areas of specific performance impact
Specify the key deliverables from each intervention
Skills
Knowledge
Opportunities for application in the working environment
Measure business impact, post facilitation
Identify highest impact trainees
Identify lowest impact trainees
Conduct trainee interviews
What have you applied?
What has not been applied?
Why?
Identify the factors that drive performance impact
Liaise with leadership, management & performance owners to overcome impact obstacles
Build high impact delegate success stories & ROI cases
Build ROI business case for overcoming impact barriers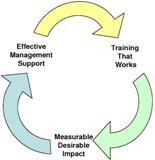 To build a successful Positive ROI case you accurately diagnose your performance needs. To find out more click this link.

Explore an approach that will allow Training and Development to become a Profit Centre in your organisation


A FREE consultation is always available, so to discuss any aspect of performance please either:
Call us on 0845 434 9589
Or complete the form below