Can Training Become a Profit Centre?
The failure of training departments to deliver a measurable return on training investments is handicapping growth and development in most organisations.
A return on investment can only be shown if any initiative can contribute to the improvement of one of the three key business benefits:
Increasing Revenue
Protecting Revenue
Increasing Efficiency
Most training departments fail to plan appropriately from a business benefits perspective and then also fail to support the changes necessary to implement new learnings successfully within the working environment.
It is possible to change and this article aims to show you how.
Imagine for one moment what it will be like when your training department becomes a profit centre:
The department is fully engaged with all of the business leaders in helping them identify the root causes that are currently blocking performance
Senior stakeholders know that every intervention is focused on measurably improving performance where the business needs it most
Business management willingly assist in the preparation and planning of each intervention
Each delegate is fully engaged in the training process and understands how best to apply each learning within the workplace
Positive results are captured and shared, and anyone resistant to change is supported throughout the change process
The department supports business management in the monitoring of a positive return on investment for each intervention
Each initiative is prioritised on the basis of its' attractiveness and achievability
Priority time is scheduled for the ongoing development of all key members of staff
The business is enthusiastic to invest more in training in the knowledge that for every pound spent at least two pounds will be received
Moving from a Cost Centre to a Profit Centre
Your training department is most likely viewed as a cost centre currently within your business and has to operate within a fixed budget which has a tendancy to decline over time not increase.
The path to becoming a profit centre is a simple but challenging one:
You must contribute in a measurable way to the improvement of business performance
Business management must understand that they are responsible for the realisation of business benefits and HR is responsible for the facilitation of the entire training process
Business benefits can only be realised if something changes (in a sustainable manner) as a direct result of the training intervention
Planning must become more rigorous to ensure that everyone has clarity on the winning performance that is desired
Non-contributing initiatives must be stopped
You must deliver a positive return on investment at the earliest opportunity to build momentum on your journey to becoming a profit centre
You must develop the capability of assessing the Attractiveness and Achievability of each proposed training intervention to enable the prioritised allocation of available funding.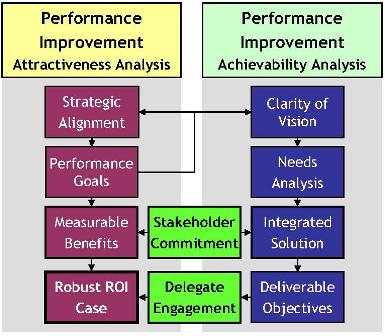 Focusing on Business Benefits
Cranfield School of Management, the pioneers of benefits realisation state that there are only eight business benefits:
Increase Revenue
Protect Revenue
Increase Efficiency
Improve Capability
Operational Continuity
Increase Knowledge
Improve Market Position
Regulatory Compliance
At
Winning Teams
we challenge our clients to focus exclusively on the top three benefits if they are serious about becoming a profit centre. Why? Because these are the three most easily measured benefits, as well as being the three primary drivers behind every business strategy.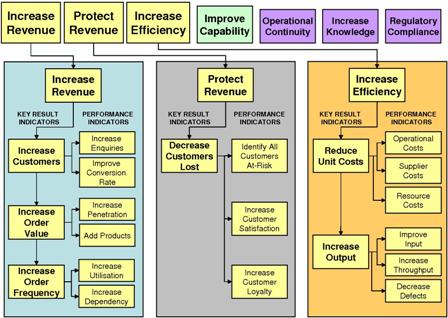 How many of your planned training programmes have a robust case for contributing to one of the three primary business benefits?
If your business is like many of those we talk to, the majority of training activities are loosely aligned with 'Increasing Knowledge' with a total absence of performance measures.
Is it any wonder that most HR departments are treated as a cost centre?


Assessing the Attractiveness & Achievability of your Training Portfolio
A benefits oriented approach to managing your training portfolio enables the entire organisation to prioritise the interventions that will measurably contribute the most significant improvement to business performance.
All of the qualititative measures you are already measuring do not go ignored, but they become embedded within a performance framework that promises a real return on every investment.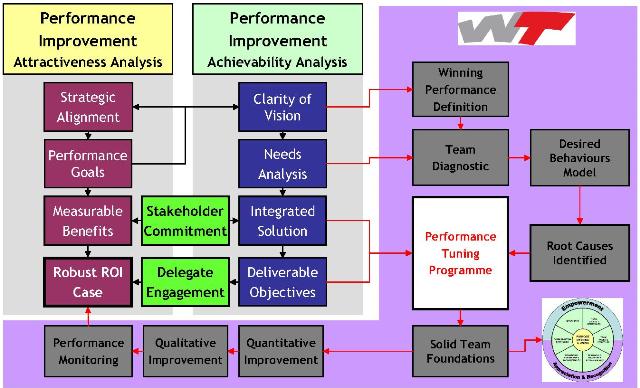 Will your next training intervention be positioned in the 'Commit' zone?
If it is and you ensure that you monitor the realisation of the targeted business benefits you will be well on your way to turning training into a profit centre.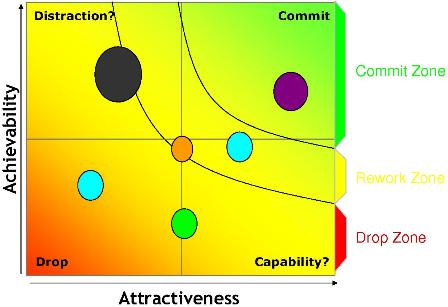 A Profit Centre regularly delivers a Positive ROI. Discover more by clicking here
A FREE consultation is always available, so to discuss any aspect of performance please either:
Call us on 0845 434 9589
Or complete the form below