Winning Teams - Measurably Accelerating Performance
Winning Teams measurably accelerate the growth of ambitious organisations.
Successful organisations know that they must continually change to maintain their competitive edge, in a similar fashion to the winning approach employed by F1 Teams.
The organisations that will continue to thrive regardless of economic fluctuations and market challenges will be those that have been purposefully designed to continually embrace change.
Leaders must promote an inspiring vision of a better tomorrow
Employees must be energised through strong connections with a purpose beyond just making money
Emphasis must be given to the 'Value Zone' where employees interface with customers
Making great decisions must become a habit that everyone can participate in
Transparency must be embraced if the power of a trust based culture is to be leveraged for maximum performance
These are just some of the key themes being embraced by our rapidly growing clients and we invite ambitious organisations to start to emulate their success through the simple application of the 3 Coordinates of Ultimate Performance.
Working with Winning Teams will be your next competitive edge!

WATCH THIS 4 MINUTE VIDEO - The Missing Ingredients of Your Organisation's Accelerated Growth



Our Pit Crew of performance specialists is unique. We have the capability to address all of the critical aspects of organisation and people performance improvement. Each team member has a real passion for their chosen field, and is eager to apply their expertise to make a real difference in the lives of our clients.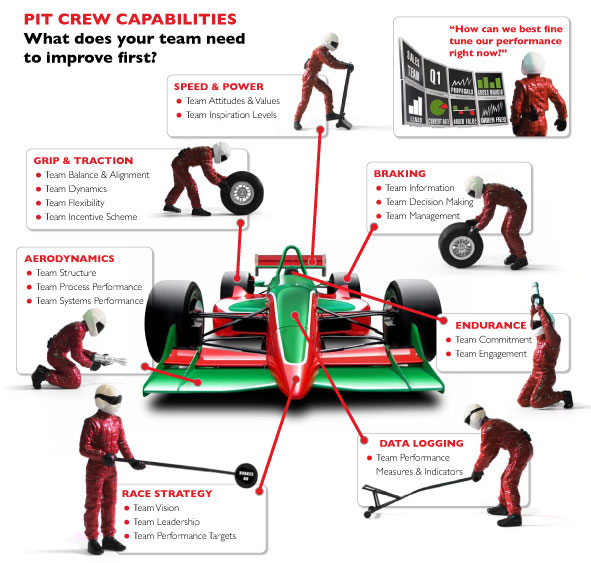 Two Easy Steps to Measurable Performance Improvement
STEP ONE: PLOT YOUR THREE COORDINATES OF ULTIMATE PERFORMANCE

COORDINATE 1 - YOUR PERFORMANCE HORIZON
Your Primary Purpose
Your Inspiring Vision Pyramid
Your Key Goals
Your Critical Measures
COORDINATE 2 - WHERE YOU ARE NOW
Your Current Performance Reality
Your Strengths, Weaknesses & Opportunities
COORDINATE 3 - YOUR IMMEDIATE PERFORMANCE TARGET
Your Performance Priorities
Your Short Term Measurable Performance Targets
Your Anticipated Return on Investment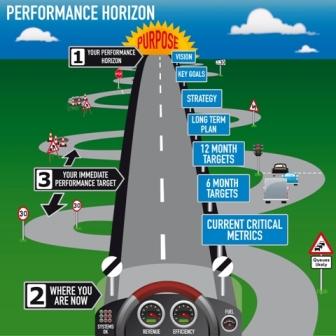 STEP TWO: PERFORMANCE ACCELERATION PROGRAMME

In alignment with your THREE COORDINATES OF ULTIMATE PERFORMANCE we design and implement a tailored performance acceleration programme that is GUARANTEED to deliver:
Immediate Quick-Wins where you need them most
Measurable Revenue Growth beyond your current budget
A Change Enabling Architecture that empowers you to continually improve performance beyond the life of the programme


We hope you enjoy your visit to this site, and please remember that a FREE CONSULTATION is always available.

So to discuss any performance issue please either:
Call us on 0845 434 9589 or
Complete the form below

Tips on Measurably Accelerating Organisational Performance
F1 Team Performance provides a model that all organisations would do well to emulate
Our F1 performance programme will allow your teams and individuals to perform to their full potential
The 3 Coordinates will enable your organisation to plot a successful journey to Ultimate Performance
Decision Making Effectiveness directly impacts your organisation's ability to measurably accelerate performance against your competitors
The Pit Crew are specialists in all aspects of team performance within a business setting
We specialise in targeting a positive ROI from your training & development budget
Contact us to target immediate improvements in your business performance
Team resources from specialists around the world
Performance Videos for organisations committed to measurably improving their performance within short timescales
Performance articles written by performance specialists
Increasing Focus On Measurable Performance Improvement
Would you like to share your knowledge about winning teams? Great, find out how you can submit your story or tip here.