Winning Behaviours
"Nothing is more productive than inspired action"
Winning Teams deliver winning behaviours consistently. It is not until we engage in action that our pursuit of any performance goal can become a reality. We may believe we are focused on what we truly want, and we may believe we have the positive mindset to attain our goals but if our habitual behaviours are not in alignment with our aspirations then a winning performance will remain unobtainable.
Behaviour is positioned as the third element in the performance triad because it is almost impossible to change any existing habitual behaviour in the absence of either a clear focused vision or a positive mindset.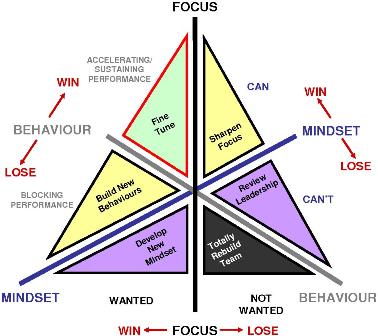 Winning behaviours are either focused on accelerating performance or sustaining performance, and to maximise their effectiveness it is critical to ensure that any blocking performance behaviours are minimised. For example:
| Accelerating Performance Behaviours | Sustaining Performance Behaviours | Blocking Performance Behaviours |
| --- | --- | --- |
| Leading by example | Tracking performance | Keeping tight control over others |
| Taking initiative | Attention to details | Difficult to challenge opinions & decisions |
| Generating enthusiasm & energy | Clarifying objectives | People are openly criticised |
| Delegating responsibility | Build loyalty & support | Frustration & anger openly displayed |
| Strengthening relationships, internal & external | Develop unity | Everyone feels under pressure |
| Building commitment to stretch goals | Treating people with dignity | Conflict avoidance |
| Integrating activities & outputs | Ensure stability & consistency of processes | Negative feedback avoided |
| Seeking to add greater value | Keep information flowing | Firm commitments are avoided |
| Streamlining processes | Making systems work together | Possible to ignore responsibilities |
The origin of each blocking performance behaviour can be found to be rooted in either:
Focusing too much attention on what is not wanted
An environment that fails to sustain a positive mindset amongst its people
Our experience shows that the best path to eliminating blocking performance behaviours is to focus attention on the development of more desirable behaviours that either accelerate performance or sustain performance to maintain the optimum balance between the two in alignment with your focused vision of an overall winning performance.
Inspired behaviours generate the highest levels of performance and it is no accident that the world class performers in any endeavour are engaged in activities in which:
They love to participate
They can exploit their natural talents
They remain inspired to deliver their best at every opportunity
They consistently seek opportunities for continual incremental improvement
Our unique approach to developing winning behaviours guarantees a Positive ROI to discover more click here
No matter how well your teams are performing today there is always scope for performance improvement and the simplest process for delivering it requires that you:
Continually sharpen the FOCUS of what is wanted and keep everyone's attention on it
Continually strengthen the MINDSET of 'I CAN/WE CAN'
Continually ingrain desired BEHAVIOURS that provide the optimum balance between accelerating and sustaining performance
A FREE consultation is always available, so to discuss any aspect of performance please either:
Call us on 0845 434 9589
Or complete the form below