As a Team Leader You Feel a Real Responsibility to Deliver Maximum Team Performance
Being a team leader can be both the most fulfilling and the most frustrating role imaginable.
When your team really clicks as a unit you can take great pride in their ability to:
Focus on delivering a winning performance
Sustain positivity and resilience in the face of any challenge
Continually demonstrate high performance behaviours regardless of circumstances
Develop their skills and consistently fine-tune their performance
Exceed your expectations
But how frequently does your team perform at those optimum levels?
If you are like the many hundreds of team leaders we talk to the answer is somewhere between 20 to 35% of the time.
In fact this is the range for their best performing teams, some teams very rarely, if ever, reach their optimum performance levels.
Why is this? Let's investigate
The Top 10 Barriers to Optimal Team Performance
Lack of a clear vision of what a winning performance will look, sound and feel like
Lack of focus on the critical measures of a winning performance
Misalignment of team member values and behaviours
Poorly defined contributions to success for each team member
Disempowering leadership style
Environment of judgment and blame
Inadequate communication strategies
Inappropriate resources
Failure to recognise successes
Lack of innovation in adjusting to changing circumstances
Explore how to become a better team leader at Leadership With You here (Opens new window)

How to Ensure Your Team is on the Path to Real Success
It is tempting to address each performance barrier as it arises, but this symptomatic approach will ultimately be doomed to failure.
There is no point in trying to build a magnificent castle on foundations of sand.
As is the case with any performance activity, you must ensure that sound fundamentals are established before any attempt to fine tune performance can be successful. It must also be remembered that this is not a one-off activity and you need to develop the habit of revisiting the fundamentals frequently as the team develops and as circumstances and objectives change.
Jack Nicklaus, the most successful golfer ever is quoted as saying - "I dedicated 80% of my practice time to working on the key fundamentals of my golf game"


Team Foundations Model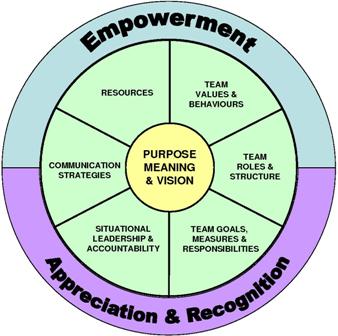 Our research shows that the vast majority of the root causes of limited performance can be attributed to the lack of sound team foundations.
We offer a two day interactive team workshop that builds sound team foundations, and leaves you with a process that you can repeat yourself time and time again.
If as a Team Leader you believe your team foundations are sound, you will be interested in our approach to Fine Tuning a Winning Performance. Select this link to discover more