DECIDE - The model for rapidly improving your Decision Making Effectiveness
Every organisation has to decide which choices to make across all areas of the business in its pursuit of accelerated performance.
The vast majority of organisations operate at a sub-optimal level when it comes to critical decision making.


5 Steps to Improving Decision Making Effectiveness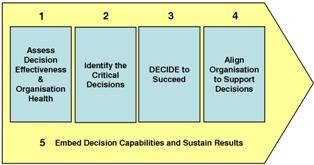 ---
STEP ONE: Effectiveness Assessment
By completing the Decision Making Effectiveness Survey you have embarked on the first step of this 5 step journey.
You will by now have received your initial Benchmark Score for Decision Effectiveness and to complete the first step you will need to investigate where the barriers to improvement currently lie within your organisation (Performance Alignment).


The Performance Alignment Survey can be accessed and completed HERE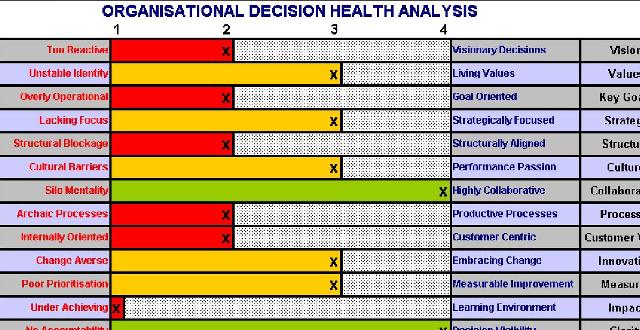 ---
STEP TWO: Identify Your Critical Decisions
The second step invites you to examine a short term horizon, for example the next three months, and identify the critical decisions you will be facing.
We suggest you prioritise those decisions by their potential impact on results when you get them right. Without an accurate sense of which decisions matter most, an organisation can end up making important ones on the fly, without the attention warranted, or often worse, delaying them again and again.
Critical decisions fall into two categories:
Big decisions that carry enormous value
Strategic decisions
Key operational decisions
Organisational changes
Major financial decisions
Frequent decisions that generate substantial value over time
Customer value decisions

Customer loyalty and satisfaction
Pricing...etc

Functional decisions

IT investment decisions
HR priority decisions...etc

To generate a short list of critical decisions to focus upon when striving to improve decision effectiveness, we suggest:
Produce an Organisational Decision Map that provides an holistic view of critical decisions by business function or process
Assess the Decision Value of each critical decision, using the formula - Value multiplied by Frequency and rank the decisions
Assess the degree of Management Time Required
Complexity
Degree of change
Scope for improvement
Attractiveness for initial pilot
---
STEP THREE: The DECIDE to SUCCEED Model
By selecting between three and five decisions from your critical decisions list, we now have set a context within which to implement the DECIDE to SUCCEED Model.
By using a combination of facilitated workshops, training sessions and telephone support, together we will explore new ways to:
Improve QUALITY
Increase SPEED
Maximise YIELD
Optimise EFFORT
---
STEP FOUR: Align Organisation to Support Decisions
Once the improvement in decision effectiveness has been experienced on your first 3 to 5 critical decisions, you will want the entire organisation to become aware of and fully embrace the DECIDE to SUCCEED Model.
This fourth step considers and provides answers to these questions amongst others:
How to best present the true value of the DECIDE to SUCCEED Model?
How to raise awareness of the current Organisational Decision Health Barriers?
How to engage the right people in decision making?
How to engage the right people in decision execution?
How to hold each other accountable to our new higher standard of decision making?
---
STEP FIVE: Embed Decision Capabilities & Sustain Results
This fifth step considers and provides answers to these questions amongst others:
Can we include every employee in the 'Detective' phase?
Who are we currently reliant on to identify alternative solutions?
Which stakeholders might be most resistant to embracing this new model?
Where do we experience information bottlenecks and what can be done about them?
Are we over-dependent on a small number of decision makers and how can we distribute greater decision responsibility?
Which decisions must always be executed effectively as a top priority, and how can we give the execution team greater sense of ownership?
---
If your organisation is to grow beyond your current performance levels, you will need to change!
To change effectively you need to make great decisions consistently, and the DECIDE to SUCCEED Model is a high impact, rapid to implement approach that excites and energises your people at all levels.
Make your next great decision and GET IN TOUCH NOW!